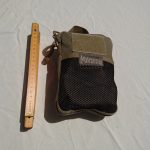 The idea of "survival packets" isn't exactly new, but I like to put things a bit less dramatic since in 35 years I never got into situations where I had to improvise a fishing rod. I'm not saying that all the tough survival shit is useless – I did learn it myself -, but during our adventures, we normally face more banal challenges.
Having said that, there is still a lot of things to take care of if you leave civilisation even for a day trip. People have died because they go for an afternoon hike in plain sight of alpine villages, but forget right clothing – there are clearly some more things you should carry when you go into the real wilderness. It's helpful to have one little item which you just throw into your bag for every trip, be it a day hike or the Otter Trail. You will always add the rest of your clothes and gear depending on the environment, season and your plan – but a core package like this covers all the basics and makes the next spontaneous trip so much easier.
There is always larger gear which you separate from the small items, such as cooking stuff (oven, pots), sleeping bag, maybe bivouac sack or tent – but you don't need all of that every time, and these bigger things are always associated with one task each. You build a camp, so you need exactly the tent and its parts, nothing else in your way. You set up the kitchen, so you grab the kitchen package. Be organised – in the camp, but also in your backpack.
Speaking of the core set which you always need, there are four fields to cover:
personal hygiene

food

medical support

camp and repairs
How if you could do it with one single, lightweight yet complete, rugged item which you just throw into your bag before you start whatever size of adventure you're up to?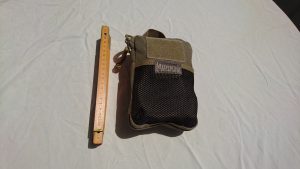 This is only 18cm long (like a man's hand), about 350g, and it contains a complete setup which represents the common denominator for trips short and large, in very different regions.
Depending on the environment there is certainly always something to add: in the Alps people look at the list and wonder how one can forget about the dangers of the cold, and on the other side of the planet guys scowl at the fool who thinks he can make it without pepper spray. Remember: this is what you always need, everywhere. Let's see what's in the package: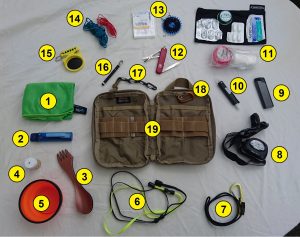 microfiber towel, medium size


(large enough to dry your body, also handy to lay all these tiny things out on it)

toothbrush set


(I've always collected those you got when you fly with South African Airlines)

---

two sporks


(a spork is half spoon and half fork. Having two allows you to share or to eat spaghetti…)

salt and pepper


(being outdoors doesn't mean you have to live totally uncivilised)

foldable cup


(this one flattens down so you can put it in your pocket as well. If you have to search for water, often you only find something where you can't put your mouth or hands under it properly. It's also easier to pick some insects out of it before you drink)

---

two adjustable, flexible bands
(if you jump into a pool or make camp it's wise to hang your clothes and/or your food from some twig – otherwise the ants will find it)
stronger cord with attached carabiner
(for the same reason, but strong enough to hang up something like a rucksack)
strong headlamp
(try to get one with a diffuser slide and a red light option. The first makes it easier to walk with because the lighted area is bigger and the contrast at the edges softer. The second reduces the risk to shy animals away)
lighter
(to be honest with you, the picture is a bit outdated. The standard lighter has been replaced by a stormproof, flat mini-blowtorch which also continues to burn 1-2 seconds after you release the trigger. But it also fits in the pictured bag together with all the other stuff)

---

tick pincers


(ticks can deliver TBE and borreliosis, both incurable, and they do it more likely when they hurt or die. In other words, removing them is the critical part. Thus, this simple and cheap tool)

basic medicine kit


(very basic, indeed. It is supposed to support you in the more likely little emergencies. You find a very flexible tape which can be applied directly on wounds, taping them together stronger than a plaster, in cases where you don't want to sew, plus pad & bandage for a pressure dressing. Also a small bag with your personal choice of medicine. Whatever you chose: add Zam-Buk, which is such a good wound treatment, and some strong painkillers which can make the difference helping you out of a mountain valley or so with a broken ankle – speaking from experience…)

mini Swiss Knife


(only for basic medical, hygienic or sewing purposes. There is another post about "real" Swiss Army Knives in this blog)

basic sewing kit


(note that there is strong yarn for gear and some more strings with pre-attached needles. If you have to sew a wound you don't want to fiddle with thread and eye first)

---

really strong nylon lines
(i.e. from a paraglider. They are strong enough to build a shelter or so)
knife sharpener
micro ballpen
(note the refills left in the bag)
another carabiner
(bigger, to secure something to your belt)
the bag itself
(check out the MaxPedition products. They provide organisers in all sizes which I find incredibly practical)
And yes, it fits all into the bag 🙂